Facilities
Laboratories are equipped to support research and educational instruction in rock mechanics, ventilation, geotechnical instrumentation, blasting, and mine systems design and simulation. In addition, department computer facilities are available for research in the above areas and for use in ore reserve estimation, mine planning, financial analysis, mine evaluation, and cost engineering. College-wide networking expands the computer capability to include workstations, access to other campus mainframe computers, and links to off-campus facilities.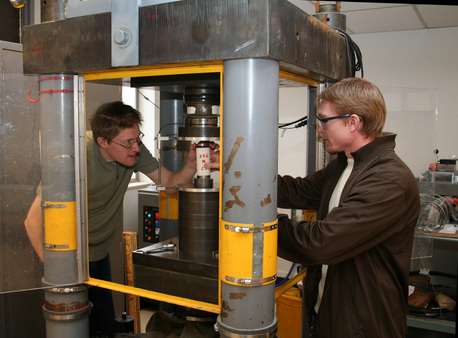 PC Instruction and Design Lab -- 108 and 306 WBB
A networked computer lab has been added to the Department. Available software includes Windows, MS Office, WordPerfect, AutoCAD), and other software specific to mining research and classroom instruction.
Contact the Department Office for access information.

Rock Mechanics Laboratory -- 107 WBB
Testing of rock for strength and material properties (confined and unconfined), also permeability and dynamic properties. www.urockmechanics.com
Mine Aerosols Laboratory
Equipment is available for collecting dust samples and determining the size fractions of the samples.

IRECO Explosives/Fragmention Laboratory
Equipment for measurement of detonation velocity of explosives and field equipment for measurement of environmental effects of blasting.

Mine Systems Research Laboratory
This facility provides construction and maintenance of instructional and research equipment. A well-equipped machine shop and a full-time technician provide resources to support the mining program.
US Mail
Mining Engineering Department
William Browning Building
135 S 1460 East Rm 00313
Salt Lake City, Ut 84112
Campus Mail
313WBB
Phone
(801) 581-7198
Fax
(801) 585-5410
Email