Partnership Fund
Beginning with the first graduate in the class of 1893, University of Utah Mining Engineers have served worldwide in industry as highly qualified professionals. Today, the Department of Mining Engineering and the College of Mines and Earth Sciences continue their commitment to prepare engineering professionals who will produce the Earth resources needed to sustain society. However, the Department is at a crossroad. Not unlike a business, unless we improve, we will begin to decline. We face near-term retrements, faculty overload, and a critical need to recruit additional students. To continue training excellent students, the Department cannot rely solely on the resources available from the State, as our budgets are based on student credit hours. The commitment of the Department and College requires the active participation of partners who benefit from the instruction of new mining engineers and the research performed by the faculty.
With the help of industry, alumni, and friends, our goal is to establish the University of Utah Mining Engineering Partnership Fund. The immediate objective of the Partnership Fund is to establish an endowment in the amount of $2,000,000 through annual gifts from industry and alumni. The fund will provide financial support for a faculty position in Mining Engineering, augmenting funds currently available to the Department.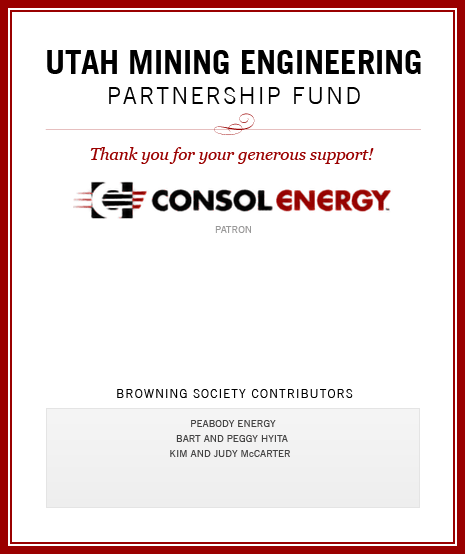 To recognize participation, three levels of giving have been established:
Partners for a Sustainable Future - Fund Partners are the most generous supporters of the Partnership Fund, whose gifts will help ensure long-term strength and excellence in the Mining Engineering program. This level is for donors who make contributions and commitments in excess of $200,000. Each Partner will be invited to be a member of the Department's Advisory Council.
Patrons - This designation is for those who contribute or commit $100,000 to $200,000 toward the Partnership Fund.
Browning Society - The Browning Society recognizes those who contribute more that $2,000 toward the Partnership Fund. It is especially appropriate for alumni who have benefited from Browning Scholarships in building a successful career.
Unless requested otherwise, donors' names will be prominently displayed near the Department of Mining Engineering Office where students and alumni can recognize the support provided by the benefactors. Acknowledgment will also be made in communications produced by the Department of Mining Engineering for students and alumni.
US Mail
Mining Engineering Department
William Browning Building
135 S 1460 East Rm 00313
Salt Lake City, Ut 84112
Campus Mail
313WBB
Phone
(801) 581-7198
Fax
(801) 585-5410
Email